We utilize materials chemistry to solve societal problems, primarily environmental and energy aspects. Our work will advance the knowledge in the frontiers of bottom-up assembled structures.
Latest News:
Invited Talks in Korea and China
Dr. Yoonseob Kim gave 10 talks at universities/institutes including POSTECH, KAIST, Yonsei University, Nankai University, and Peking University in August 2019.
Looking forward active interactions and collaborations in the coming years!
DSM Science & Technology Award – POLY, ACS
Won the DSM award, given to one individual annually for the best lecture. (link)
Boston, MA, August 2018
Future Faculty Scholar – PMSE, ACS
Selected as one of the future faculty scholars. (link)
Boston, MA, August 2018
Demonstrate experiments such as "clock reaction", "temperature", and "nylon synthesis" etc. (link)
Goodrich Academy, Fitchburg, MA, Nov. 2017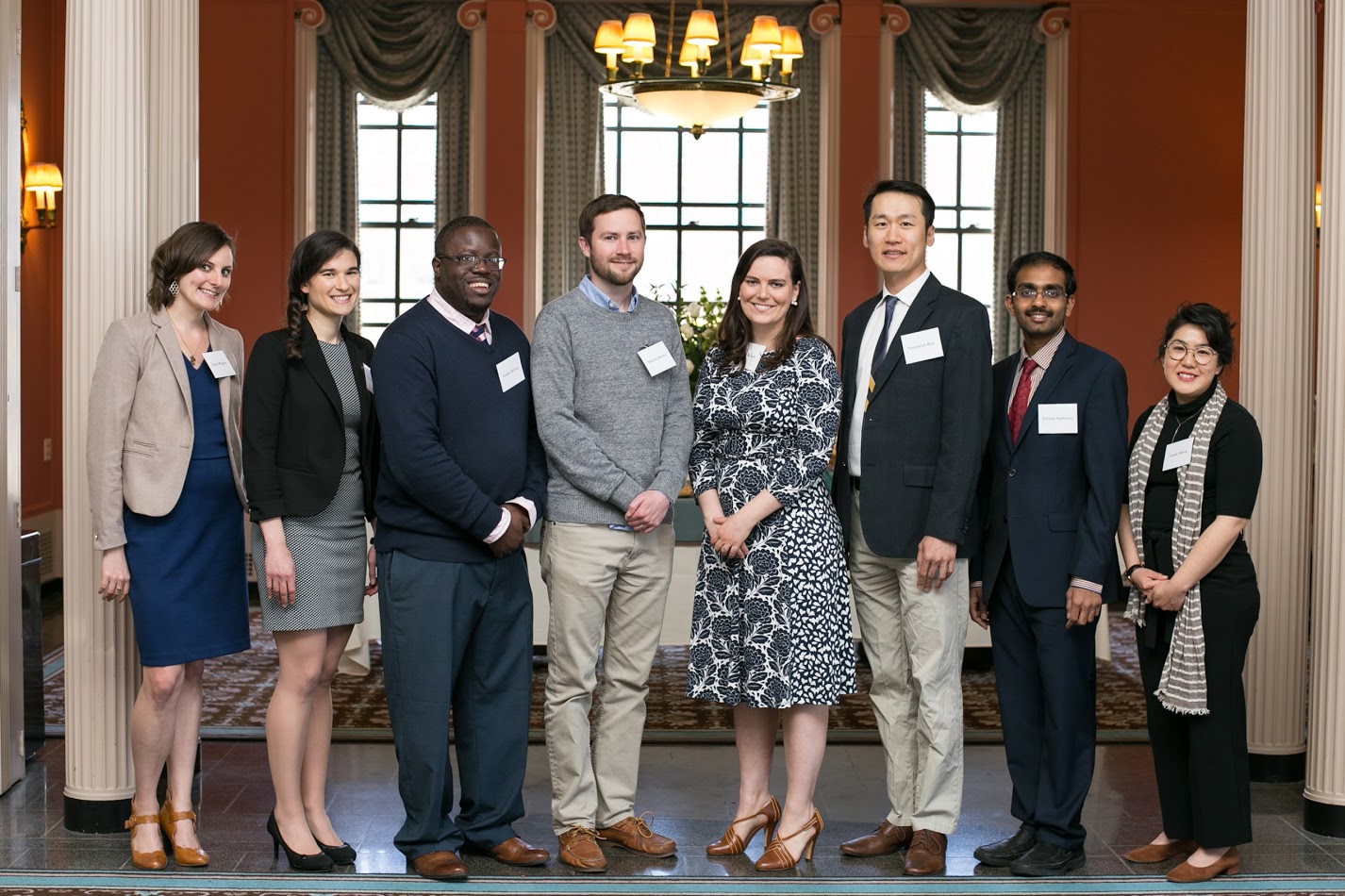 ProQuest Distinguished Dissertation Award – U of M
Top 10 out of 800 dissertations completed in 2016 were recognized by Rackham Graduate School. (link)
University of Michigan, Ann Arbor, MI, April 2017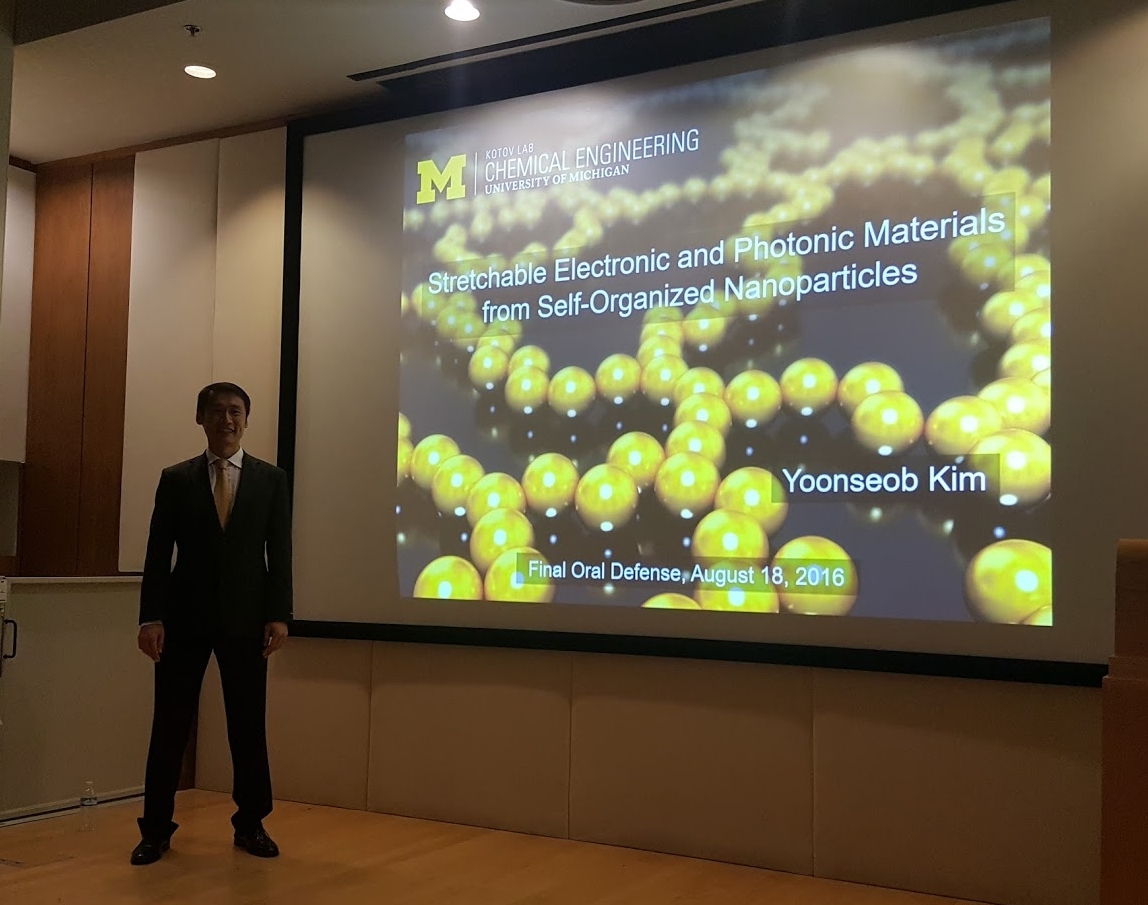 Thesis title on "Stretchable Electronic and Photonic Materials from Self-Organized Nanoparticles"
University of Michigan, Ann Arbor, MI, August 2016
Graduate Student Award, Silver Medal
Phoenix, AZ, March 2016
Reconfigurable Chiroptical Nanocomposites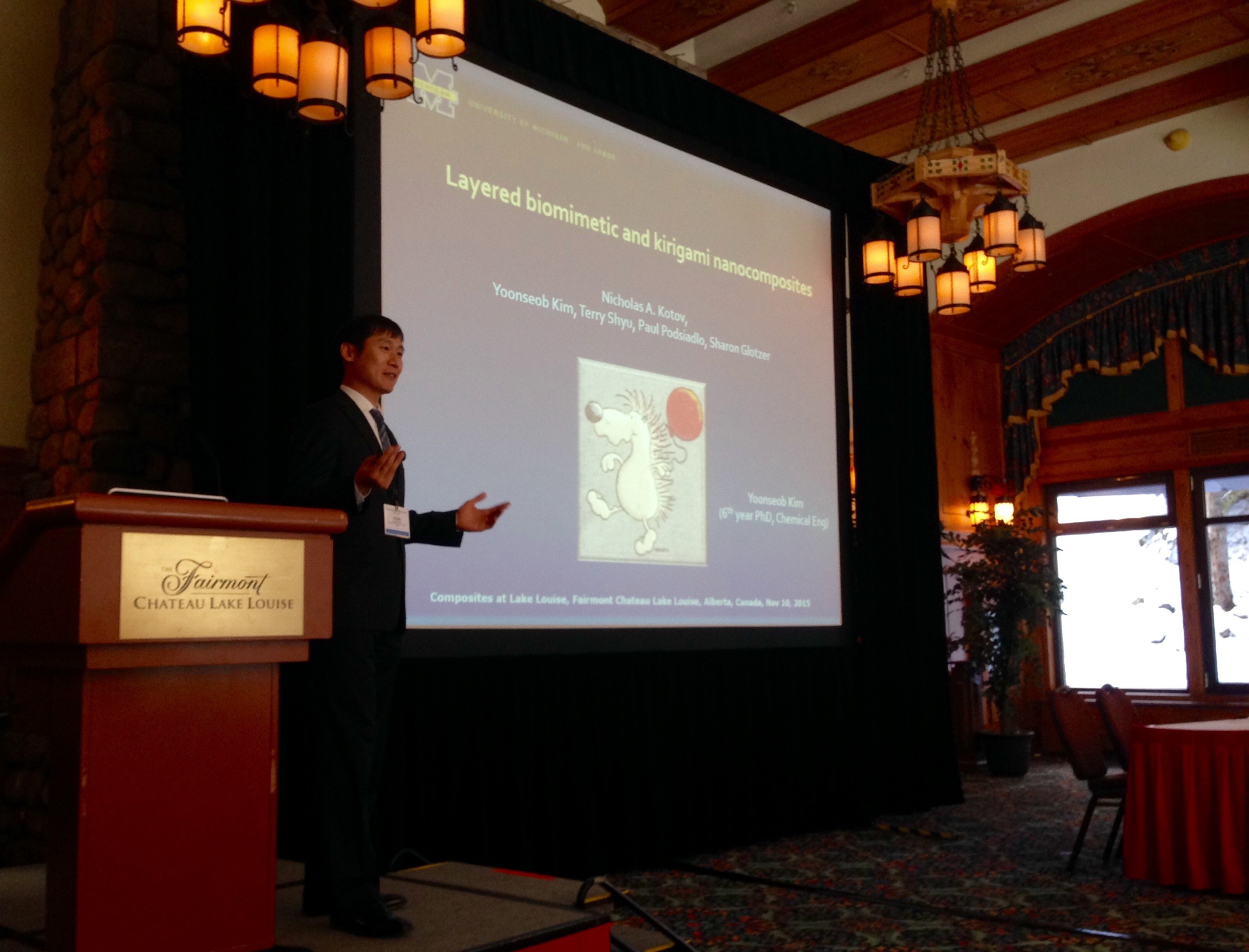 Composites at Lake Louise, "Layered biomimetic and kirigami nanocomposites" (on behalf of Prof. Nicholas A. Kotov)
Fairmont Chateau Lake Louise, Alberta, Canada, November 2015
Eastman Chemical Student Award, Finalist (Top 6), PMSE
Boston, MA, August 2015
- Doh Wonsuk memorial award, KIChE-US chapter
- Graduate Student Award, 2nd prize
Atlanta, GA, November 2014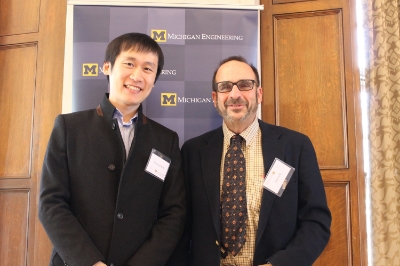 - Towner Prize for Distinguished Academic Achievement
- Distinguished Leadership Award, College of Engineering
Ann Arbor, MI, March 2014
Photo with Chemical Engineering Graduate Chair Prof. Robert Ziff.
Stretchable Nanoparticle Conductors
Polyurethane studded with gold nanoparticles can conduct electricity even when stretched, Michigan engineers have discovered. This feat could pave the way for flexible electronics and gentler medical devices. The nanoparticles start out randomly arranged, but they drift into wire-like formations as the material is stretched.
U of M News Service, C&EN, Chemistry World, Discovery News, Phys.org, IEEE Spectrum, Science Daily, Wired, etc